Snaptik - TikTok Downloader
This free online Snaptik TikTok Video Downloader is to convert TikTok videos easily and effectively
How to Download TikTok without watermark?
1、
Copy a TikTok download video URL beginning with https:// or http://
2、
Press the "Download" button and wait for the analysis to complete
3、
Download the TikTok video in MP3/MP4 forma
Why use Snaptik Online TikTok Download video tool?
1、
Simple and intuitive interface
2、
Download TikTok videos with comprehensive details
3、
Quickest download speed
4、
Ad-free TikTok downloading
5、
Preserve optimal audio quality
Snaptik - Best TikTok Video Download Site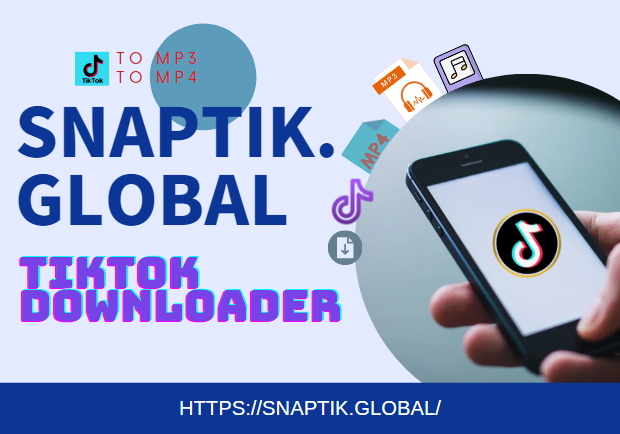 The Snaptik website, a prominent TikTok Download DL site, offers a robust solution for the conversion of videos from the widely used TikTok application. It provides you the functionality to download just the audio portion from TikTok videos, proving useful when you need to convert lectures, music tracks, or other content where audio is key. By default, Snaptik offers downloads at 720p resolution. However, the flexibility it offers allows you to manually customize each video's resolution to suit your specific needs. Where available, an HD version can be selected or any lower resolution depending on what you require.
Once you've selected your videos for conversion, these can be changed into MP3 format while you wait for the completion of this process. Leveraging years of accumulated expertise, this exceptional Snaptik online TikTok Download Converter is made available for free, employing cutting-edge technology to achieve its purpose. Snaptik excels at being an efficient and safe solution for downloading from TikTok. More than that, it also supports compatibility with a broad spectrum of other platforms which includes not only Windows, Mac, Android, and iOS, etc. 
Fast and Easy Downloads
Downloading TikTok videos has never been easier with Snaptik. The video downloader lets you save your favorite content from the app in just a few clicks, without any hassle or fuss. One of the reasons why Snaptik stands out from other video downloaders is its incredible downloading speed. With Snaptik, you can enjoy lightning-fast downloads, even when you're saving high-quality videos. This means that you'll be able to download all your favorite TikTok videos quickly, without wasting any time. Another advantage of using Snaptik is how easy it is to use. You don't need any special skills or technical knowledge to download TikTok videos with Snaptik. All you need to do is copy the link of the video you want to download, paste it into Snaptik's search bar, and hit the download button. In just a few seconds, your video will be ready for you to watch offline.
No Watermark on Downloaded Videos
If you're an avid TikTok user, you probably know that downloading videos from the platform can be a bit tricky. Most video downloaders add a watermark to the downloaded videos, which can be a bummer if you want to share them on other social media platforms or use them for your own creative projects. However, with Snaptik, you don't have to worry about watermarks ruining the quality of your downloaded videos. Moreover, removing watermarks from TikTok videos can be a time-consuming process that requires technical expertise. Using Snaptik, however, you can easily download videos without any watermarks in just a few clicks. This feature makes Snaptik ideal for content creators who need to download multiple videos quickly and efficiently.
Free to Use
One of the most impressive features of Snaptik is that it's entirely free to use. You don't have to pay a single penny to download your favorite TikTok videos. Unlike other video downloaders, Snaptik doesn't require any subscription or membership fee to access its premium features. With Snaptik, you can download as many videos as you want without worrying about hidden charges or fees. It's an excellent option for anyone who loves watching TikTok videos and wants to save them on their devices.
FAQ of Snaptik - TikTok Downloader
1. Where is the download tiktok videos saved?
The TikTok downloaded video file is automatically saved in your download folder. Access this folder via your browser or file manager, or modify the default storage location.
2. What is the maximum download TikTok video size?
Now, this TikTok To MP3 HD download snaptik site has no specific limit. Easily save long TikTok To MP3 videos here, and download tiktok without watermark like snaptik.
3. Cannot properly convert the TikTok downloaded video?
At times, video conversion requires a new pop-up window, which might be blocked by your browser.
4. How many files can I convert at the same time?
With the TikTok To MP3 Converter, you can only convert one file at a time, since it is a free online tool.
5. IF I fail to play the download file?
If I cannot play the TikTok downloaded file, please verify if the file format is compatible with your media player. If not, consider using a different player.
6. When I convert TikTok videos to MP3, do they lose any sound quality?
This TikTok Downloader strives to minimize sound quality loss, but it can not guarantee 100% preservation, as it is sometimes unavoidable.