The Best Free TikTok Downloader
SnapTik: Top Free Online TikTok to MP4 Converter without Watermark
How do I convert and save content from TikTok without watermark?
1、
Copy the video link, ensuring it begins with https:// or http:// , such as "https://www.tiktok.com/@.../video/...".
2、
Click on the "Download" button and wait for the analysis process to finish.
3、
Choose your desired format (MP3 or MP4) and download the video.
Why use snaptik.global Online TikTok Downloader?
1、
Simple and intuitive usage
2、
Download Tiktok with comprehensive details provided
3、
Quickest download velocity
5、
Preserve optimal audio quality
The Best Free TikTok Downloader - SnapTik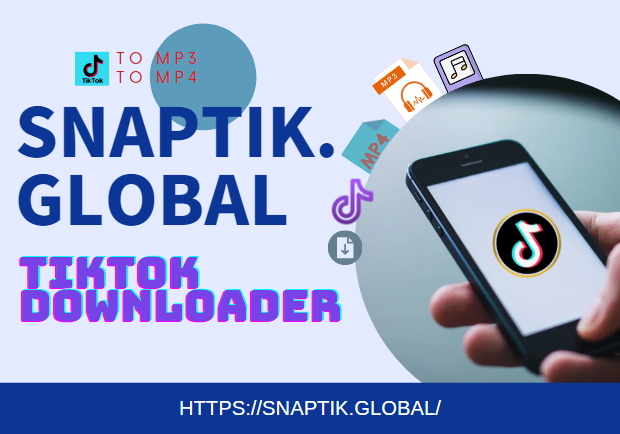 Looking for a swift and reliable TikTok Downloader to save TikTok clips as MP4/MP3 files? Check out our top-tier Snaptik TikTok Download DL Site! We offer an intuitive platform, instantaneous download services, and support for various video formats and quality. There's no software to install or sign-up required - start capturing your chosen videos with just a couple of clicks. Whether you're a content creator, student, or an avid TikTok enthusiast, we accommodate all your download needs.
This versatile Snaptik TikTok downloader tool is fully compatible with a wide array of devices (PCs, tablets, smartphones) and different operating systems (including Windows, Mac, Linux, Android, iOS, etc.). Plus, it's completely free, and you don't need to install any software or register.
Easy and Fast Video Downloading: With TikTok Downloader, you can easily download any TikTok video by simply copying and pasting the video link into the downloader. The application quickly extracts the video from the link and provides you with a downloadable link within seconds.
High-Quality Video Downloading: TikTok Downloader provides high-quality video downloading options, allowing you to choose the download resolution that suits your needs. You can opt for HD resolution, 720p, or 480p, depending on your device and internet speed.
Batch Downloading: TikTok Downloader makes it easy to download multiple videos. With just a few clicks, you can download a whole series of videos to watch whenever you want.
User-Friendly Interface: TikTok Downloader is designed with a user-friendly interface, making it easy for anyone to use. All the necessary functions are available on the main screen, and the navigation is effortless.
Free and Safe to Use: TikTok Downloader is entirely free to use, and there are no hidden costs or fees. Additionally, the application is safe to use and does not require any personal information for its operation.
FAQs of Snaptik TikTok Download Site
1. What is a Snaptik TikTok downloader?
It's a tool that allows you to download TikTok videos onto your device.
2. Experiencing issues with proper video conversion?
At times, you might need to access a separate pop-up window for video conversion, which could be blocked by your browser.
3. What is the maximum file size that can be downloaded?
There is no particular limit on this TikTok download platform. You can effortlessly save extended TikTok videos as MP3 files here.
4. How do I use SnapTik or similar applications?
Generally, you would copy the link of the TikTok video you want to download and then paste it into the downloader.
5. Are SnapTik TikTok downloaders safe?
While many are safe, some may pose risks such as malware or privacy violations, so using well-known and trusted services is advised.
6. Can I download videos in high resolution with SnapTik?
The available quality often depends on the original video's quality and the capabilities of the downloader itself.
7. Do these tools allow me to download videos without watermarks?
Yes, Snaptik TikTok Downloader can remove TikTok watermarks from downloaded videos